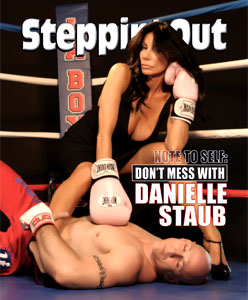 Holy lasagna!
Danielle Staub is on a tear. In the latest round of the ongoing Real Housewives of New Jersey catfight, the self-proclaimed practitioner of love and light rips her former costars enemies a new cannoli.
But before we get to that, Staub reveals that self-proclaimed Lesbian Superstar Lori Michaels isn't her first girl-on-girl romance...
"I've had six relationships with women and I will tell you women kiss better than men," Staub says in the new issue of Steppin' Out magazine. "That's very, very true. I remember each and every one of them."
Still, she won't call herself bisexual. "I don't really like labels," Staub said. "I'm trying to keep that part of my life as private as possible. Let's just say I'm interested in sexuality."
To Read More Click Here.