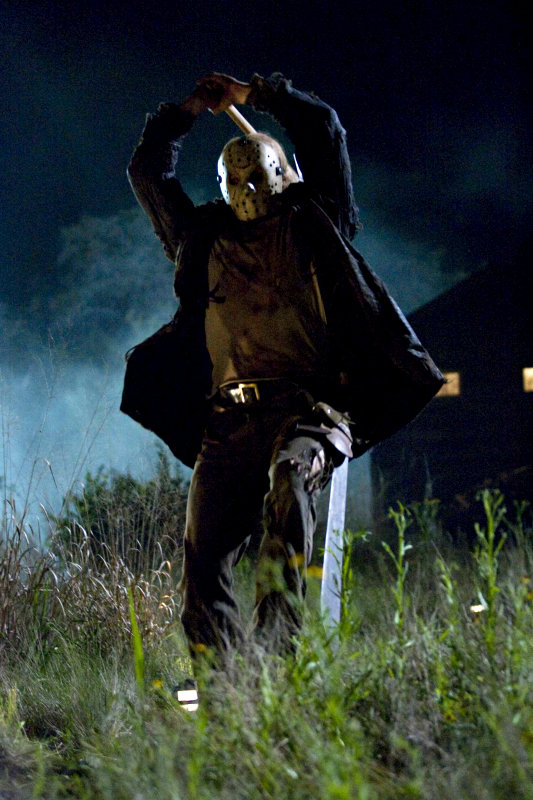 The sequel of "Friday the 13th (2009)" could be making use of a wintery setting. Visiting the Chicago set of Platinum Dunes' next horror feature "A Nightmare on Elm Street", MovieWeb got an interesting scoop about the follow-up movie, "Untitled Friday the 13th Follow Up", from producers Brad Fuller and Andrew Form who hinted the possibility of snowball fight for Jason Voorhees.
"Jason is going to have a snowball fight. Look, for Friday the 13th II, which is a totally different film than A Nightmare on Elm Street, it needs to look different. It has a totally different feeling. We want to have fun," both Fuller and Form explained. "We want to present something that audiences haven't seen before. One of the things they haven't seen before is Jason in the snow. They haven't seen that before. Our goal is to bring them things they haven't seen."
On the occasion, the producers also revealed that there are talks of developing the sequel in 3-D. Still, they noted that financial issue will be the determiner on whether or not the follow-up movie will be made in 3-D. "It certainly has been talked about. The financial ramifications of doing a film of that budget in 3D are huge," so claimed the two producers.
"Its not like they are going to say, 'We want you to make a sequel. Here is twice as much money.' It doesn't go that way. All of our movies are about the exact same budget. I guarantee if we make that movie, it will be the same budget as the original. They may ask, 'Do you want to do it in 3D?' And we will talk about it. If its six or seven million dollars more, they will probably opt out. Unless something unexpected happens, it will not be in 3D. Though we would love to make a 3D horror movie."
As for the possible release date, Fuller and Form opened up that no particular date has been fixed just yet though they have an idea when they would love to release it. "We don't have a release date," they stated. "We don't have a greenlit movie. I want to be very clear on that. We don't have a script for Friday the 13th II, it is not greenlit. If it does get greenlit, and we are able to mount it in a reasonable amount of time, we will have the film opening on August 13th of 2010."