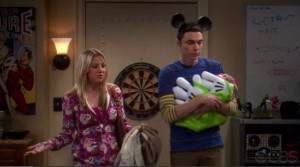 Last night's episode focused on the fallout from Penny and Leonard's break-up, and of course, it was all about Sheldon. He ran into Penny when he went to get his mail, unsure whether he was supposed to be avoiding her. He understood that there were certain social protocols to be followed–like not telling Penny that Leonard spent a lot of time looking at pictures of her, smelling the pillow she used to sleep on, and crying (although he slipped up on all counts).
Sheldon was relieved when Penny told him they could still be friends: "It was a lot of work to accommodate you into my life. I'd hate for that effort to have been in vain." Ever the creature of habit, cutting Penny out of his life would require some adjustment on his part, and whether he would admit it or not, he likes her company and finds her interesting. Walking up to the stairs, he noticed spaghetti in her grocery bag and invited himself over for dinner. He asked if she would cut up hot dogs to put in the sauce just like his mother makes it.
To Read More Click Here.