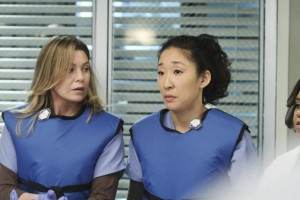 The season finale of Grey's Anatomy won't be ending until May 20, so there's still a few more episodes to go. ABC has released promo photos for the all new episode that will be airing on May 6.
A 700-POUND PATIENT PUTS THE TEAM TO THE TEST, ON ABC'S "GREY'S ANATOMY"
"How Insensitive" - Bailey preps the team with mandatory sensitivity training prior to admitting a 700-pound patient with compounded medical issues, and the case proves to be challenging in every sense of the word. Meanwhile Derek has to come face to face with a former patient's husband in a wrongful death deposition, and spending time with a heart patient's daughter opens up some old wounds for Cristina, on "Grey's Anatomy," THURSDAY, MAY 6 (9:00-10:01 p.m., ET) on the ABC Television Network.
To Read More Click Here.