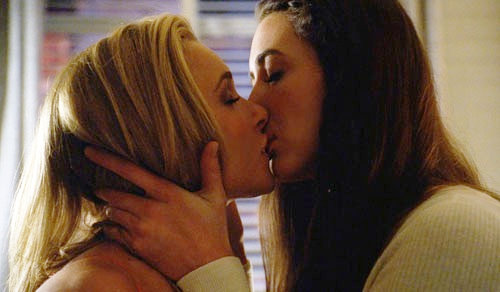 The first picture of Claire Bennet swinging to the other side is out. Next week on "Heroes", the cheerleader will have a lesbian storyline that involves her and college roommate Gretchen. According to the synopsis, Claire discovers that Gretchen may have a hidden agenda.
The knowledge that Claire will be experimenting with lesbianism had been thrown to the public before the fifth volume started. Hayden Panettiere herself has spilled that she was the one who came with the idea. She said, "I kinda threw it out there... [The writers] put you in relationships and I was like, 'Can I just be with a girl or something...? Let's do that.' So they took it and ran with it."
Panettiere added that Madeline Zima who portrays Gretchen is someone pleasant to work with. "She's a great girl... and we have a blast," she continued.
In "Hysterical Blindness", Samuel prepares for new additions to his family, while Lydia (guest star Dawn Olivieri) warns him of the consequences. Meanwhile, Peter finds an unexpected way to connect with Emma (guest star Deanne Bray), who would prefer to stay distant. Elsewhere, a different side of Sylar emerges as he desperately tries to remember the person he used to be.