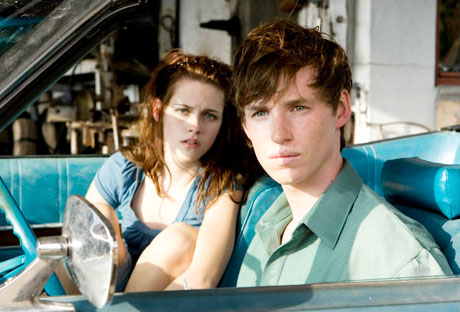 MTV has got its hand on a new clip from "The Yellow Handkerchief" starring Kristen Stewart. Making its way out on Tuesday, January 12, the video highlights the lead actress and her co-star Eddie Redmayne who discuss his science project. The clip then ends when the twosome starts getting close physically.
At the same time, the site also debuted two fresh stills from the indie movie. In one image, Redmayne is captured embracing Stewart. Meanwhile, the other photo exposes the "Twilight" beauty who stands on her tip toes while putting her hands in the air, acting like a ballerina. The exclusive pictures can be seen on MTV.
"The Yellow Handkerchief" is about three strangers of two generations bound by loneliness who reach out to one another. Kristen Stewart's Martine, her new ride Eddie Redmayne's Gordy, and recently free jailbird William Hurt's Brett Hanson embark on a journey through the lush green byways of rural Louisiana, each motivated by reasons of their own.
Martine yearns to escape her family, Gordy hopes to get closer to Martine and Brett must decide whether he wants to return to the uncertainty of the life and the woman he left behind, his ex-wife May. With all these twists, what sets out to be a common road trip turns into an exploration of the possibility of second chances. Samuel Goldwyn Films will release this romantic drama in limited theaters across the U.S. on February 12, 2010.