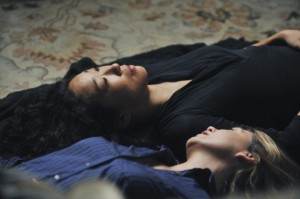 In this week's episode of GREY'S ANATOMY the staff of Seattle Grace are still dealing with the aftermath and shock of the shooting while attending to a flag football team that received its own shock on the field.
This week finds Christina and Meredith still not cleared for surgery. Meredith tries everything she knows to get Perkins to clear her including crying and bad mascara. Perkins just wants the truth. Meanwhile Teddy and Owen decide that, despite what Perkins says, Yang is ready for surgery. After all, it is what she lives for, so won't it get her to live again? They couldn't have been more out of tune with what Christina needed if they tried.
A flag football team gets struck by lightning which apparently ricochets off one team member and takes out the whole team. They have various ailments, mostly burns. There is one girl on the football team and they are all in love with her. Hilarity ensues as each team member asks about Carrie while Carrie only has eyes for one of them, Warren. Just as Warren is about to declare his love for her, he spits up blood and has to be rushed to surgery. A typical Grey's Anatomy moment.
To Read More Click Here.