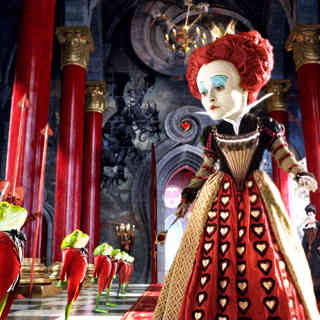 Another sneak peek to "Alice in Wonderland" has been shared through a new featurette. Beside giving preview to some never-before-seen scenes, the video which comes out via Yahoo! Movies also provides commentaries from cast members Anne Hathaway and Johnny Depp who claim the upcoming movie is different from the classic story.
Along with the release of the new snippet, Walt Disney Pictures has also released several new images from the Tim Burton-directed film. Those who are exposed in the fresh stills are the Red Queen, Knave of Hearts, White Rabbit, Dormouse and Caterpillar.
Said to be an epic 3-D fantasy adventure which gives a magical and imaginative twist on some of the most beloved stories of all time, "Alice in Wonderland" will see 19-year-old Alice who returns to the whimsical world she first encountered as a young girl, reuniting with her childhood friends. This time, she embarks on a fantastical journey to find her true destiny and end the Red Queen's reign of terror.
Anne Hathaway and Johnny Depp star as White Queen and Mad Hatter respectively. Meanwhile, Mia Wasikowska takes the lead female role of Alice. Also among the cast ensemble are Helena Bonham Carter, Michael Sheen, Paul Whitehouse, Barbara Windsor and Stephen Fry. This adventure movie will be dropped in U.S. theaters on March 5.