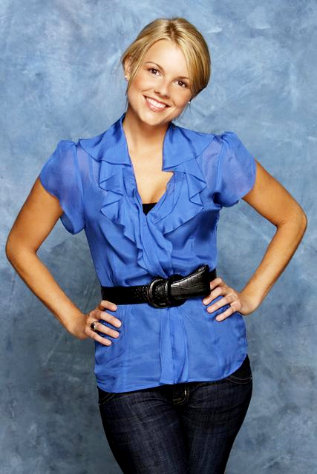 It was a hometown visit week on "The Bachelor" and one woman voluntarily left the show although her family loved Jake Pavelka. Ali, the 25-year-old advertising account manager from Williamstown, MA chose her career over Jake, leaving the show before the rose ceremony took place.
Ali first came to Jake's hotel room in Los Angeles, telling him that she had a difficult decision to make and was hoping that he would help her. "I can say we have something really special," Jake said to her. "Life is about minimizing your regrets. You just have to weigh which one is going to be a bigger regret. ...Selfishly, you know, I would say, you know, stay here and take a chance on me. But, I can't, right now, guarantee you I'm going to put a ring on your finger."
Ali, teary-eyed, said that she would reveal her decision during the rose ceremony. But before it happened, she met host Chris Harrison, asking permission to speak to Jake. She said to the bachelor, "There's so many what ifs and maybes. The fact of the matter is there's still three other girls downstairs. If you were mine that choice would be easy." Jake replied, "I don't want you to go. If you choose to leave, I'll be devastated." Then there was a moment when Ali muttered "I love you" but Jake did not return it.
To Read More Click Here.