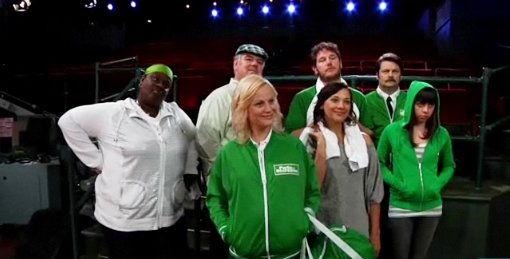 Jimmy Fallon challenged the cast of "Parks and Recreation" for a battle ala "Glee". On the Thursday, April 8 episode of "Late Night with Jimmy Fallon", the host welcomed Amy Poehler, Rashida Jones, Ron Swanson, Chris Pratt, Aubrey Plaza, and more to battle them in a musical number.
It begins with Fallon getting out of the elevator just like McKinley High students walking past the school's corridor and talk about their club. Approached by his teammates, Jimmy accumulated plans to join the "Sectionals". That was before they met their competition and found out that The Roots are on their side. Fred Armisen made a cameo as the principal who determined whether Roots can join the "Parks" team.
Beside the cast of "Parks", the April 8 episode also saw the appearance of Justin Bieber. ?uestlove successfully persuaded the 16-year-old to sit behind the drum and do a solo.