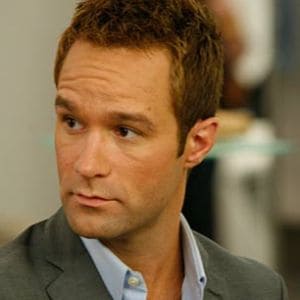 We just wrapped up the last season of 24--never mind if reaction's been mixed regarding it's not-so-explosive final scene. Of course, it's never too early to get ready for the show's eighth, and possibly final, season. After all, they've already announced the casting of Slumdog Millionaire star Anil Kapoor as the leader of a Middle Eastern peacekeeping group.
You can add one more name to that pot, and it's for someone who'll spend a lot of time with President Allison Taylor (Cherry Jones).
Now part of the show's regular cast is Chris Diamantopoulos, who last appeared as Debra Messing's (gay) best friend on The Starter Wife. His role in 24? He's Rob Weiss, the president's new Chief of Staff, who's described as argumentative and tough. Perhaps more so than Ethan Kanin (Bob Gunton), who returned to that position at the end of last Monday's finale? Maybe more so than Olivia Taylor (Sprague Grayden), who has screwed up badly after ordering the death of Jonas Hodges (Jon Voight), leading her to a stint under federal custody?
Diamantopoulos, born in Toronto on May 4, 1975, has taken numerous guest roles in other television shows. Apart from his role in The Starter Wife, he also had a recurring role in State of Mind, which aired in Lifetime two years back. He is also known as the husband of Becki Newton, who you might be familiar with through her roles in ABC's Ugly Betty.
How will he come into play as 24, and a revived CTU, deals with the assassination of a visiting foreign leader, who's most definitely Kapoor's character? That'd be a long way to go, admittedly, but shooting's going to take place soon, and the new season returns, as always, in January. For now, we do a lot of waiting. Or, you can buy the season 7 DVD...