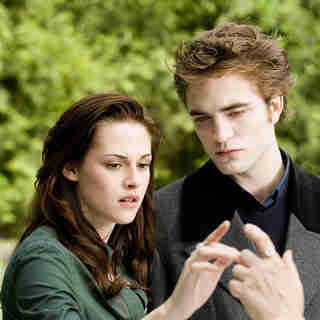 "The Twilight Saga's New Moon" has been named the film of 2009 by filmgoers voting for the Fandango Fan Choice Award at the upcoming ShoWest convention in Las Vegas. The sequel beat "Avatar" and eight other movies to claim the top prize at the cinema owners event, which starts in late March. "New Moon" garnered 66 per cent of the vote.
"The Twilight Saga's New Moon" broke midnight record on the eve of November 20 as its release took approximately $26.3 million from 3,514 theaters. It later topped the North American Box Office chart and made the third biggest opening weekend of all time after grossing $142,8 million.
In the "Twilight" sequel, Robert Pattinson, Kristen Stewart and Taylor Lautner reprise Edward Cullen, Bella Swan and Jacob Black respectively. The stars play along with Ashley Greene, Jackson Rathbone, Nikki Reed, Kellan Lutz and Dakota Fanning.