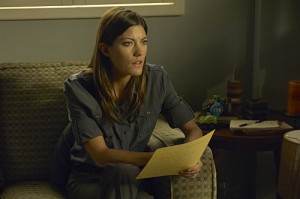 A new episode of Dexter will be airing this weekend on October 10 and Showtime has released a sneak peek and a synopsis for the episode.
After weeks of mourning and transitioning to single fatherhood, Dexter (Michael C. Hall) is back to his old serial killing ways. He attempts to hire a nanny for Harrison so he can continue to stalk and kill his next victim. His latest target is Boyd Fowler (Shawn Hatosy), a road kill janitor with a proclivity for killing young women and disposing of their bodies in the Florida swamps.
To Read More Click Here.