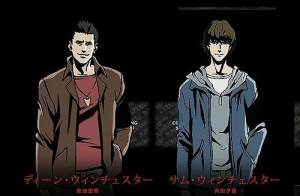 Talk about the Supernatural anime has been going on for a little while, and series creator Eric Kripke confirmed it at Comic Con. Unfortunately, it's only available in Japan. But the beauty of a global internet means that the rest of us non-Japanese fans can still take a peek at a trailer for the series and get additional information.
The official website can be found here. From what I can see, the animation series (to be divided into 22 episodes) will closely follow the storyline of the original series. According to Anime News Network Warner Home Video will ship Supernatural the Animation on Blu-ray and DVD in Japan on one starter disc on February 23, 2011, followed by two boxes on March 9 and April 6. (The first disc and box have been delayed by one month.) Apparently Jared and Jensen will be dubbing two episodes in the second box set into English.
To Read More Click Here.