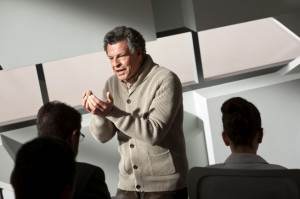 A new episode of Fringe will be airing this week on October 14 and Fox has put together a teaser video featuring some sneak peeks and behind the scenes footage with the actors.
NEWTON WAKES A SLEEPER ON AN ALL-NEW FRINGE ON THURSDAY, OCTOBER 14, ON FOX
Newton, concerned about the consequences of a distressing development involving a high-ranking official, is forced to call to action a sleeping shapeshifter. As Walter and the rest of the team gather evidence, they move the investigation to Massive Dynamic, where Olivia goes on high alert and Walter finds himself in a perilous situation, in the all-new Do Shapeshifters Dream of Electric Sheep? episode of FRINGE airing Thursday, Oct. 14 (9:00-10:00 PM ET/PT) on FOX. (FR-304) (TV-14 D, L, S, V)
To Read More Click Here.