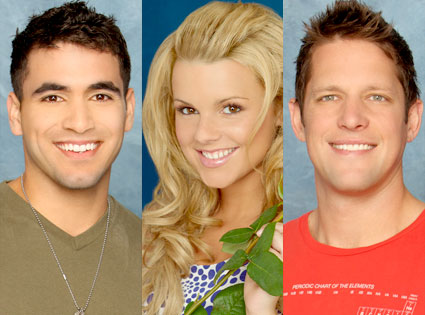 This was a definite first for this show and tonight I walked away from watching The Bachelorette with complete and utter satisfaction. I had a hunch that Ali would possibly chose Roberto but I didn't want to even think of watching the part of where she had to turn down Chris if that was the route she was going to take.
Chris has proven to be one of the most orginal and down to earth guys ever to be on this show. The thought of seeing him heartbroken would break the hearts of millions of viewers. But Ali did something that set the bar high for this show. And I think everyone will look at her in an even more positive light as she breaks the mold and adverts torturing the one guy she will turn down.
Ali decides after both meet her parents that she is in love with Roberto. Rather then take Chris through another date, make him pick a ring, and send him into the stand on the cliff, she would end things before that. What an outstanding person this guy is. He held his own and made her confident with her decision even though you knew he was tearing up inside. If anything she will have a friend for life from this one. If this show does not get Chris back for The Bachelor next season I will boycott this show forever! I think millions of viewers would agree 100% with me on that.
But the most touching part of tonight, after Ali broke up with Chris he went outside. It hadn't rained at all that day and he looked out over the water and there was this most beautiful and full rainbow. His mother that past away told him that she would communicate with him through rainbows. I cried my eyes out! Apparently so did Ali and many of the crew members at the time it happened.
So entering the rose ceremony tonight, Roberto told Ali up on the cliff that he loves her. She told him he was the last one left and he proposed to her. The show did a great Lion King song showcasing both of them through out the entire season. A great and satisfying ending to this season of The Bachelorette.
I will be posting a seperate review for "After the Final Rose".