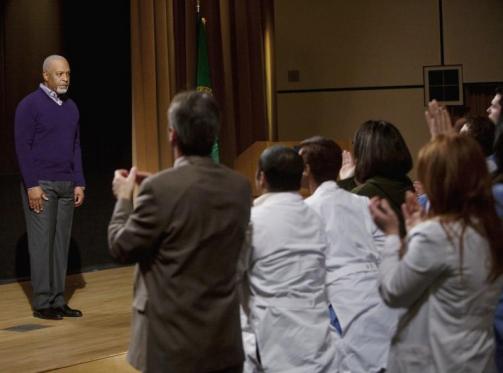 Not even the most brilliant surgeon is born with the skills, perspective or fortitude to make it to the top. There is always a defining experience that propels them to the next level.
Thursday night on Grey's Anatomy, Bailey, Richard and Callie reflected the cases that helped make them the doctors they are today through a series of flashback sequences.
Gimmicky as it sounded on paper, it really worked for the most part. Click here for our recap (plus quotes and music) from last night. Below is our review of "The Time Warp" ...
45 DAYS SOBER: We open in the present with the Chief talking about his group of residents at an AA meeting. He's 45 days sober, but will not be reinstated. At least not yet.
Derek tells him it'll be a while before the board will consider that, and he's been authorized to offer him a general surgery attending position instead. Richard is not happy.
Still, he agrees to participate in Derek's newly-instituted lecture series in which the surgeons will share stories about some of their most significant cases. His involves Ellis.
The Chief's story may have been our favorite, as the case itself was compelling, we got to see what younger Ellis Grey was like, and it tied in beautifully with his current struggles.
To Read More Click Here