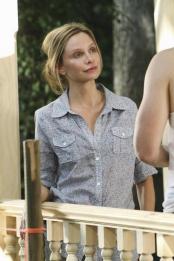 "Call Mom" could apply to pretty much any episode of Brothers & Sisters, but it's actually the title of next Sunday's, with those two words taking on a different meaning than usual.
Get ready for Nora's long-awaited radio show debut! A double-mom, advice-giving smackdown! Elsewhere, Sarah becomes concerned about Luc when he doesn't want to hit it.
With Rebecca gone (see our Brothers & Sisters review from last night) and the family moving past the accident somewhat, perhaps a return to vintage B&S will follow soon enough.