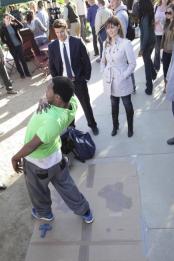 Katheryn Winnick's character, Hannah Burley, has been the most-talked about topic on Bones this season, even after last week's episode, when she didn't even appear.
Booth seems so happy - or at least is trying to convince himself he's happy - with his reporter girlfriend, but what's the endgame as far as the show's plans for her?
Fox's promo for the show's November 4 return offers a major hint, and it doesn't look good. For Hannah. If you haven't seen it yet, here's the potential game-changer:
To Read More Click Here.