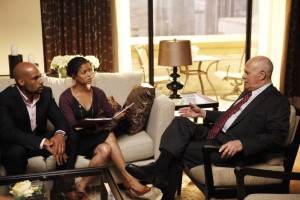 Besides the unoriginal title (and Sally Field inducing images from the movie of the same name), tonight's Undercovers was a solid episode that introduced the Blooms to another spy couple, as well as give us another mystery to worry about.
Los Angeles, California
Instead of giving us the mission of the week prologue, we got the chance to revisit the Blooms first this week as they prepare for an annual "first date" anniversary and Lizzy's 90 sober ceremony. While Lizzy makes sure that Sam and Steven will be in attendance at her ceremony, I'm slick wondering 1) Who was she talking to on the phone in Sam's closet and 2) what will they find out and how soon? Could Lizzy be in some financial trouble? Or is it something grander than that?
To Read More Click Here.