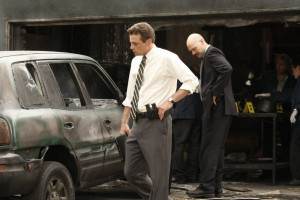 When in doubt on TV, blow something up.
Heaven knows that I love a good explosion; there are times when I like to just turn my brain off and watch a big, loud action movie. Seeing a car blow up in the preview for this episode of Law & Order: Los Angeles, I thought, "Oh, that looks cool!" That was until I found out that there were two small children inside. Like others who have already commented on Twitter, I found that tasteless. It's not encouraging when the inciting incident of an episode already leaves a bad taste in your mouth. To say nothing of the cringe-inducing last line in the teaser that Skeet Ulrich somehow manages to deliver without sounding like he's in a PSA: "When visiting your friendly neighborhood meth lab, leave the kids at home." I half expected NBC's "The More You Know" music to kick in after that.
To Read More Click Here.