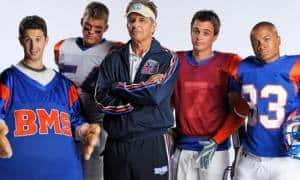 I've been through college three times, and nothing I experienced ever came close to the level of insanity that takes place at Blue Mountain State. If I were going there, I don't think I'd last a week.
Alex may also be second-guessing his decision to attend BMS, because right off the bat, he's in hot water with Coach Daniels. Tired of Alex's lack of effort, the coach has assigned Alex to babysit incoming QB Radon Randell (Desperate Housewives' Page Kennedy), who happens to be coming from a stint at Rikers Island. Yes, the prison. Considering we last saw Alex narrowly avoiding a lynch mob of cops before the team's Cypress Bowl appearance, you have to wonder what it's going to take for him to catch a break. Or maybe this will be the swift kick in the behind he needs.
To Read More Click Here.