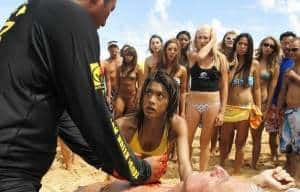 Every crime series eventually gets to the "someone close to one of the main cast members is murdered, is in trouble or is evil" episode. ForHawaii Five-O, tonight is that episode, and the storyline is given to Kono (Grace Park). Her surfing mentor is murdered, and she takes center stage.
Practically in front of Kono (and Kevin Sorbo), her mentor Ian is shot mid-wave and dies instantly. As far as shootings go, that takes some effort. Five-O is called in to investigate, and as Chin Ho points out, there are plenty of suspects simply because Ian had plenty of money. Yet how many could pull off such a difficult shot? That's the question Steve and Chin Ho have, and they soon connect the case to the Kapu, the equivalent of a legitimate gang that unofficially protects the North Shore. Two of its former members, Levi Parker and Diego Stone, have a connection to Ian: he testified against them in court, and they've just recently finished doing time. The Kapu are nice enough to drop the two punks off for Steve and Danny to interview, but they have an alibi.
To Read More Click Here.