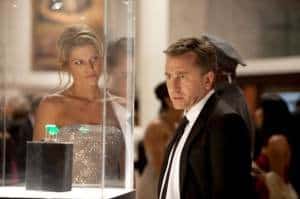 Lie To Me has a tough act to follow after last week's impressive episode. It doesn't get off to a good start by excluding Detective Wallowski entirely. I mention that because I figure she'd have a few choice things to say about Dark Blue's Tricia Helfer trying to put the moves on Cal.
Torres gets an angry late-night phone call from a museum curator telling her that the place has been broken into, although the two thieves were shot. Cal steps up for her, before he goes to interrogate the would-be robbers. He has a chat with Rick (played by Seth Peterson, better known as Nate Westen on Burn Notice), who tells him they were there to steal an item that's already been sold to a mysterious buyer.
To Read More Click Here.