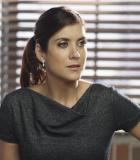 This week's episode of Private Practice ends in shocking, gruesome fashion.
There's a lot going on in "All in the Family" prior to the aforementioned tragedy, though. In this first clip, Pete treats a patient behaving strangely after a car accident. Doubts begin swirling immediately given the man's insistence that he does not need treatment.
The reason for his suspicious answers aren't what Pete expected, however ...
To Read More Click Here.