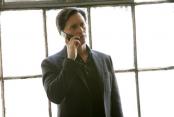 Family secrets interfere during the hunt for the truth.
That is how NBC teases the November 8 episode of The Event. But we can reveal more about the next new installment of this intriguing drama, as fans can look forward to the following developments:
President Martinez orders Blake Sterling to weed out the mole from their staff, prompting Sterling to wonder about his judgment of those around him.
Sophia reasserts her power over the detainees, including Thomas, as she prepares them for the next step in their plan.
With the assistance of Madeline, Sean searches for answers.
Get an early look at the episode via the official NBC preview posted here: