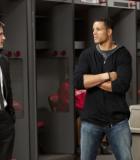 Tony Gonzalez takes a break from catching touchdown passes for the Atlanta Falcons and guest stars next week on One Tree Hill.
The record-breaking tight end plays himself on the episode "Mouthful of Diamonds," as Nathan visits Atlanta and takes a major step in his career as an agent.
Overall, the following preview teases "a night of tough questions and surprising answers" ahead for viewers. Get an early look at it now and remember to visit TV Fanatic each week for the latest One Tree Hill quotes, music, photos and more.