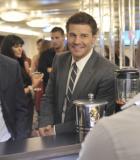 After a three-week layoff, Bones is back in full effect, with no shortage of angst among fans (and Brennan) regarding Booth and Hannah. Our Bones review covers this in detail.
Next week, past and present collide as remains from a slave ship, the Amelia Rose, surface. Meanwhile, Booth and Brennan are led to another kind of ship - a cougar cruise.
Here's Fox's first promo for "The Shallow in the Deep" ...