As part of a wide-ranging interview with Sons of Anarchy creator Kurt Sutter, TV Squad reveals the following fun tidbit about this show's November 30 season finale:
It will feature an actual member of the Hells Angel Motorcycle Club.
Pictured below with Sutter himself (who plays Otto), Sonny Barger will play a character named Lenny the Pimp. He was part of the first nine and was sent to prison for life killing three ATF officers.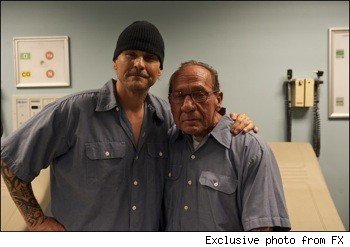 To Read More Click Here.