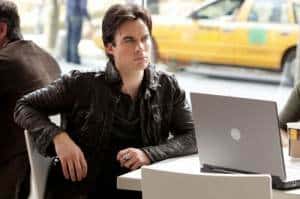 "Won't be long now".
Well that's not true considering we will have to wait until December 2nd for a new episode, got to love those cliffhangers that this show is so fond of torturing us with. This episode was all about putting the players together and exposing the reasons behind Katherine and her whole "manipulative, psychotic bitch" existence, and despite it being less action heavy and more about the conversation, this week showed that the mythology behind the show goes back way before the Damon and Stefan were even born.
The episode starts in Bulgaria in 1490, Katherine is Katerina Petrova and still human, giving birth to an illegitimate child that allowed for Elena's birthright to remain a secret until now. This scene coupled with Katerina's return to Bulgaria in 1492, finding her family brutally slaughtered at the hands of the mysterious and ominous Klaus goes some way to show why Katherine is as cold and detached as she is (and reminded me a little of Eric's family being slaughtered in True Blood). The manipulative part of her personality has always been there, she uses Trevor to escape from Klaus and by getting Rose to feed her blood to help her become immortal, she really will do anything to survive. I'm glad that they made Katerina just as feisty as Katherine has been, and it only makes sense that she would have been like this in her human life, becoming polarised in her vampire one. Like the moment with Stefan back in "Memory Lane"  they have given Katherine some moments of sadness, she is old and so she can pretend to turn the switch off but as Rose reveals in this is a lie and makes Katherine more than a one dimensional villain.
To Read More Click here.