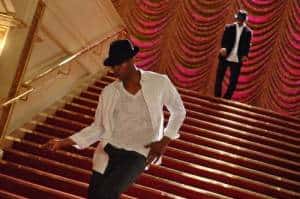 Hellcats is going musical on November 17 (as if this show wasn't already musical), when the cheerleaders perform a few big dance numbers to help Derrick make a romantic gesture to Vanessa.  We've already posted promo photos for this episode and now The CW has released a trailer and sneak peek.  Check it out below.
DEBBIE ALLEN DIRECTS
A compromising picture of Alice (Heather Hemmens) is sent around school, humiliating her. Lewis (Robbie Jones) feels bad for Alice and agrees to help her find the culprit. The two discover Damian (guest star Josh Emerson), a football player, is the culprit and she vows revenge and plans to out him after she finds out he is gay. Red (Jeff Hephner) and Vanessa (Sharon Leal) hear of her plan and set out to stop her before she does something she will regret.
To Read More Click here.