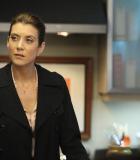 Last week, Private Practice focused on the immediate fallout from the brutal sexual assault on one of its main characters in "Did You Hear What Happened to Charlotte King?"
Last night, in the fittingly titled "What Happens Next," Charlotte tried to pick up the pieces and return to her normal life, only to find out, predictably, that it's not that simple.
Looking ahead to next Thursday, the recovery process is only going to get harder. In the promo below, she's faced with the decision of whether to confront and ID her attacker ...
To Read More Click Here.