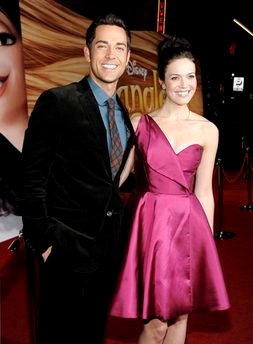 Exactly ten days before "Tangled" graces U.S. cinemas, Walt Disney Pictures has kicked start the red carpet events for the movie by holding the world premiere on November 14. Though Mandy Moore and Zachary Levi had to sacrifice their day off to attend the promotional event, they looked cheerful that Sunday night.
Wearing a simple one-shouldered dress, the brunette who voices Rapunzel paired up with Levi, who voices Flynn, to pose for cameras. The two even took some funny shots with fans who donned blonde wigs to resemble the Disney character. They later joined director duo, Byron Howard and Nathan Greno, on the red carpet.
To Read More Click Here.