The aliens take a back seat this week, in an episode which almost entirely focuses on Vice President Raymond Jarvis, as The Event dips into its 24 bag of tricks after a few weeks of its Lost bag of tricks.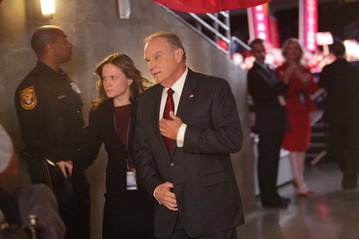 Whereas previous episodes have used the flashback method to illuminate character actions in the past to show the type of person they are (with varying degrees of success), 1.08 acts more as a "fill in the blanks" episode, showing as how Dempsey recruited Jarvis and how Jarvis was the one that called Dempsey to inform him the President wasn't going to back down on releasing the detainees, which gave the go-ahead for the assassination attempt. Jarvis has been a bad boy. As the President and Blake work to figure out who is the mole, Jarvis sets up a meet with Dempsey to discuss their next move. But Dempsey has other ideas, instead tasking Vicky Roberts to kill him. But Vicky ain't playing ball, no siree. Vicky politely suggests Jarvis turn himself in. Jarvis is about to do so when one of Dempsey's men executes Plan B -- blowing up a van near Jarvis. Exploding vans seems to be a strange way to attempt an assassination in a pinch (what's wrong with the classic sniper rifle?), but it was effective.
To Read More Click Here.