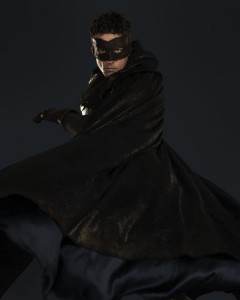 Yesterday NBC announced its mid-season schedule.  Among some of the interesting announcements in the new schedule was the premiere date for NBC's new superhero show, The Cape.  NBC has released two trailers, promotional photos of the cast and a short description of the show.
"The Cape" is a one-hour drama series starring David Lyons ("ER") as Vince Faraday, an honest cop on a corrupt police force, who finds himself framed for a series of murders and presumed dead. He is forced into hiding, leaving behind his wife Dana (Jennifer Ferrin, "Life on Mars") and son, Trip (Ryan Wynott, "Flash Forward"). Fueled by a desire to reunite with his family and to battle the criminal forces that have overtaken Palm City, Vince Faraday becomes "The Cape" – his son's favorite comic book superhero – and takes the law into his own hands.
To Read More Click Here.