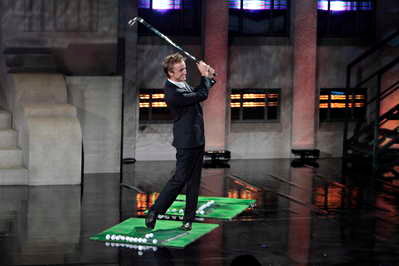 Tom Felton has visited George Lopez on his show "Lopez Tonight" on Monday, November 22. During his appearance, the 23-year-old British actor didn't only talk about his new movie "Harry Potter and the Deathly Hallows: Part I" but also showed his golf swing.
After talking about female fans who are crazy about him and things that they did to attract him, Tom was challenged to break as many thing as he could using golf stick and balls in 21 seconds. While the Draco Malfoy of "Harry Potter" movie series could only break two things, host George managed to damage three things with his golf swing.
Having a wonderful time on the show, Tom wrote on his Twitter page, "Had a great time with @georgelopez thanks for having me, the crew and crowd were fantastic! i love my harry putter!! also met @NeYoCompound who was charming! loving the music!"