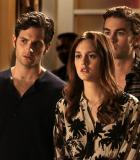 "The Townie" marks Gossip Girl's mid-season finale and the culmination of Katie Cassidy's run on the show. With Blair and Dan ready to dole out some frontier justice, as she put it at the end of "Gaslit," expect sparks to fly between Juliet and Dair on December 6.
It looks like Ben and Damien (Kevin Zegers) will play key roles, too.
Here's the first promo for the episode. Watch and comment below ...