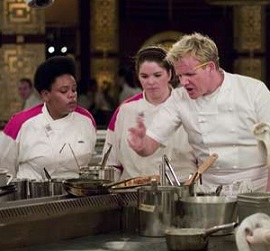 Tonight it was yet another intense night on this season's Hell's Kitchen. And we almost had yet another chef walk off in the middle of dinner service. Salvatore one of the stronger chef's competing on the Blue side had to act in Jean Paul's position and didn't know how to write in English. I felt for the poor guy because that would be a huge set back. He didn't tell Ramsay that was the reason for his delay and not being able to write how the steak should be cooked when one got sent back. I was happy to see that he his still competing in this competition.
We also had a burn victim tonight on the red team. Fran burned her hand pretty good when she was dumping out a pot of salted water. She decided not to tell anyone and suffer through the dinner service. But her steak station didn't go to well as she couldn't seem to get how to cook a steak.
In the end the red team (women's team) lost the dinner service. And the two that were nominated was Fran and Jaime. Jaime did a horrible job at burning everything but wasn't the weakest player tonight. Yet Fran did a great job of defending herself to Ramsay. Jaime ended up having to hang her Chef's jacket and say goodbye.
Ramsay still was pretty nerved up in this episode and we did hear a lot of cursing but not like some episodes we have seen. It was also very entertaining watching the Blue team lose the first challenge and have to pick garbage along the LA River. All in all a great episode.