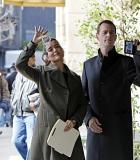 NCIS returns in three weeks (Tuesday, January 11), followed by spinoff NCIS: Los Angeles andThe Good Wife on CBS, a perpetually dominating lineup for the network.
Some fans occasionally say the show has lost some of its luster over seven-plus seasons, but week in and week out, the procedural earns its #1 ranking in the ratings.
When it comes to seamlessly melding sharp writing, healthy doses of humor, lightning-quick plot developments and intense action, the show may be peerless today.
Here's a new NCIS promo with some classic clips from this fall ...