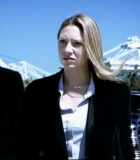 Granted, Walter has his pants off in the following clip from Fringe.
And, yes, the somewhat mad scientist has a syringe in his hands. But don't panic, people! As the character says below, he's performed hundreds of experiments on himself...
This is a sneak peek at "Firefly," which is the first Fringe episode of 2011 and also the first to air on a Friday night.
While fans are panicking over what this move means for the future of the series, producers don't seem worried. Check out this funny, innovative promo for the show's January 21 return.