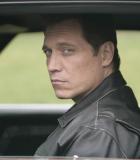 Lights Out is coming to FX.
Premiering on January 11, the drama centers on former boxing champion, Patrick "Lights" Leary.
Five years after his retirement, Leary (Holt McCallany) must find his place in the world. This is a man conflicted, struggling to deal with family life and a looming financial crisis. Can he resist sliding back on the gloves to return to what he does best? Will he be forced to make shady decisions for the sake of his family?
To Read More Click Here.