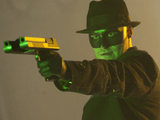 Seth Rogen has branded his character in The Green Hornet as "a douchebag".
The Pineapple Express star plays debonair newspaper publisher Brett Reid in the forthcoming action movie, a character that he describes as possessing less than admirable qualities throughout his transformation into the titular superhero.
He told Virgin Media: "No, he's not a hero in any way that you would expect him to be a hero, in any way, shape or form. He's really not that awesome when you meet him, I have to say.
"He's kind of a douchebag. A somewhat entertaining douchebag, but a douchebag all the same."
To Read More Click Here.