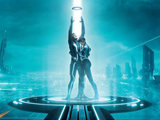 The writers behind Tron Legacy have announced plans to air a new animated series which will serve as the next instalment of the Tron franchise. 

The show will cover the events which took place between the original Tron film and Tron Legacy and will be considered as part of the continuity of the series. 

Screenwriter Eddy Kistis told Box Office Magazine: "We're treating it very seriously. This animated show will take place from when Flynn is in a safe house. It's from when Clu takes over the grid to before when Sam comes in. So if you were wondering what was the grid like before that, then watch the show."
To Read More
Click Here.