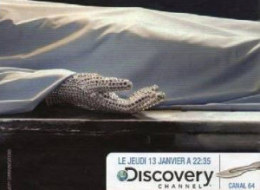 Discovery Channel International has indefinitely postponed the broadcast of a show purporting to re-enact Michael Jackson's autopsy, the company announced Friday.
The company cited the start of hearings next week in the criminal case against Jackson's doctor and a request by the late superstar's estate as reasons for the postponement.
John Branca and John McClain, co-executors of Jackson's estate, accused Discovery of insensitivity toward the singer's family in a letter Wednesday demanding that the company cancel plans for the program.
http://feeds.huffingtonpost.com/~r/HP/Entertainment/~3/F--bFKwMTvg/michael-jackson-autopsy-discovery_n_803162.html