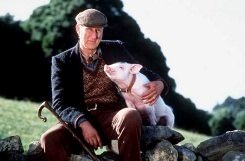 Celebrated children's author Dick King-Smith has died after a long battle with ill health. The writer passed away in his sleep at his home in Bath, England on Tuesday, January 4, his agent has confirmed. He was 88.
King-Smith was one of Britain's best-selling kids authors and often used his love of animals to inspire some of his better-known works, including 1983's "The Sheep-Pig", which was turned into a big screen hit with the release of "Babe" in 1995. Another novel, 1990's "The Water Horse", became a movie in 2007 starring "Harry Potter" actress Emma Watson and David Morrissey.
To Read More Click Here.