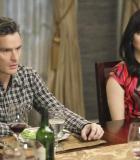 Tommy returns to Brothers & Sisters next week. What surprises await when he does?
Cara Buono, mainly. She plays Tommy's ... wait, did he get married in the past year?
The Walkers are excited when Tommy comes for a visit, but his companion's enthusiasm for Walker family history rubs the family the wrong way. Sarah then accuses him her sibling of returning just for money, an accusation that Tommy bristles at.
To Read More Click Here.