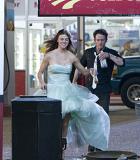 They're young, they're in love and they're mass murderers.
"The Thirteenth Step," next week's episode of Criminal Minds, features guest star Adrianne Palicki of Friday Night Lights fame as half of a Bonnie and Clyde-esque duo.
The BAU must hit the road to track down young lovers Sydney (Palicki) and Ray (Jonathan Tucker) and put a stop their interstate murder spree. Should be a wild ride. Read More...
http://www.tvfanatic.com/2011/01/criminal-minds-promo-the-thirteenth-step/