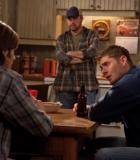 After far too many weeks off the air, Supernatural returns on Friday with a focus on virgins. No, really.
But there is also the matter of Sam, his soul and his overall well-being to tackle. Dean attempts to do so on "Like a Virgin," thanks to the assistance of Castiel. How does it go? Not very well, based on the following sneak peek at the episode.
Check it out now and return to TV Fanatic shortly after the installment airs for a thorough review of all events and developments: Read More...
http://www.tvfanatic.com/2011/01/supernatural-sneak-peek-about-sams-soul/