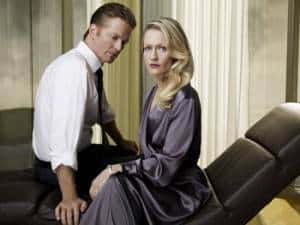 Last night's Caprica was evenly plotted in terms of story and character development. While Zoe and the Adamas took a back seat this week, the rest of the cast got a chance to shine tonight, even if all of their intentions are misguided or not.
Murderer
Daniel and the Adamas are trying to gain votes in the next Graystone Industries board meeting by coercing them from the board members in bribes. One of the board members, Cornell, is brought to Daniel's house, where Daniel pushes some drugs in his face and brings up some dirty laundry of Cornell's involving harming little girls. It seems that Daniel made those charges go away and is ready to collect his favor. He wants Cornell's vote in the board meeting in exchange for keeping Cornell's secrets hidden and washed away. Cornell opts not to be blackmailed and calls Daniel scum for stooping so low. Well, while Daniel is having a bit of a low moment in morality, how can Cornell call Daniel scum when heharmed little girls? Scum is scum and you aren't looking too clean right now yourself, Cornell. Daniel eventually lets Cornell go, but the damage has already been done.
To Read More Click Here.