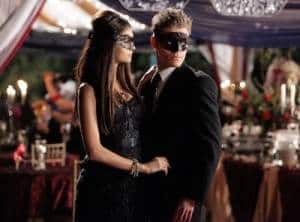 No new episode of The Vampire Diaries will be airing this week. Instead, the show will return on October 21. We previously posted a promo for the new new episode and now The CW has put together a rather length promo for what looks to be the next two episodes, including the masquerade episode set to air on October 28.
2.06 - Plan B - KATHERINE CHOOSES A NEW VICTIM
Despite Elena's (Nina Dobrev) efforts to keep Jeremy (Steven R. McQueen) safe, he offers to help Damon (Ian Somerhalder) and Alaric (Matt Davis) deal with Katherine (Nina Dobrev). Sheriff Forbes (Marguerite MacIntyre) and Caroline (Candice Accola) share a few rare moments of quality mother/daughter time. Bonnie (Katerina Graham) accidentally discovers new information about Mason (guest star Taylor Kinney) and shares it with Stefan (Paul Wesley), leading Damon to take matters into his own hands. Sara Canning and Zach Roerig also star. John Behring directed the episode written by Elizabeth Craft & Sara Fain (#206).
To Read More Click Here.